A New Threat is the eighth checkpoint featured in Chapter Three of Heavenly Sword.
A New Threat

Nariko fighting Roach's pet, an Oranguman.

Game

Chapter

Checkpoint

8

Previous Checkpoint

Next Checkpoint
Background
Edit
After defeating her kinsmen in combat, Nariko demands that Bohan let her go. Bohan responds by continuing the game and tells Roach to release his 'pets.' Nariko laments the loss of the Heavenly Sword, claiming she never thought she'd ever miss it.
Walkthrough
Edit
This is the first appearance of Orangumen in the game, although in this instance there is only one. Nariko, still armed with the Longsword, must defeat the lone Oranguman in combat. Its attacks are quite strong and can quickly deplete Nariko's health; however, the Oranguman frequently attacks too aggressively, allowing her opportunities to strike at its back. Do this until it lies dead and the checkpoint will be complete. There is only one Heavenly Pot available.
Checkpoints
Edit
Previous Checkpoint: Fireworks!
Next Checkpoint: Riding High
Video Walkthrough
Edit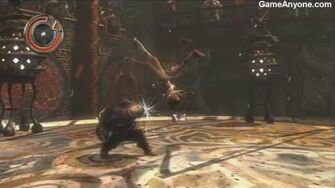 Ad blocker interference detected!
Wikia is a free-to-use site that makes money from advertising. We have a modified experience for viewers using ad blockers

Wikia is not accessible if you've made further modifications. Remove the custom ad blocker rule(s) and the page will load as expected.