Bait and Trap is the eighth checkpoint featured in Chapter Two of Heavenly Sword.
Bait and Trap

Whiptail's sanctuary.

Game

Chapter

Checkpoint

8

Previous Checkpoint

Next Checkpoint
Background
Edit
Nariko makes her way to Whiptail's lair only to find the serpentine general has set a trap for her in an effort to kill her and retrieve the Heavenly Sword.
Walkthrough
Edit
The checkpoint consists of one large wave of enemies surrounding Nariko in an attempt to overwhelm her; in spite of this they are relatively easy to defeat. Utilizing Superstyles is highly reccomended during this checkpoint, as the enemies will stay encircled around Nariko during this period. Should they be needed, two Heavenly Pots are available for Nariko. Kill Whiptail's guard and proceed to watch the cutscene in which Nariko uses her life force to bring Shen back from the dead and the checkpoint will be complete.
Checkpoints
Edit
Previous Checkpoint: The Main Gate
Next Checkpoint: Whiptail
Video Walkthrough
Edit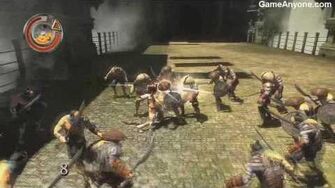 Ad blocker interference detected!
Wikia is a free-to-use site that makes money from advertising. We have a modified experience for viewers using ad blockers

Wikia is not accessible if you've made further modifications. Remove the custom ad blocker rule(s) and the page will load as expected.