Playtime is the second checkpoint featured in Chapter Three of Heavenly Sword.
Playtime

Kai shooting enemies in the warehouse.

Game

Chapter

Checkpoint

2

Previous Checkpoint

Next Checkpoint
Background
Edit
Kai must now make her way through a warehouse filled with Bohan's guards in an effort to rescue Nariko.
Walkthrough
Edit
This checkpoint, while initially appearing to be challenging due to its close quarters, is actually no more difficult than any previous checkpoint. In order to reach Kai, Bohan's guards must go around the assortment of boxes in the warehouse; Kai herself, however, can simply jump over them. Players should use this to their advantage to complete the checkpoint. There are three doors the guards spawn from; killing them all and then using a turnstile to leave the warehouse will complete the checkpoint. Three Heavenly Pots are available for Kai to use.
The name of this checkpoint is a reference to Kai's term for combat, "playtime."
Checkpoints
Edit
Previous Checkpoint: Kai's Mission
Next Checkpoint: Shooting Fish
Video Walkthrough
Edit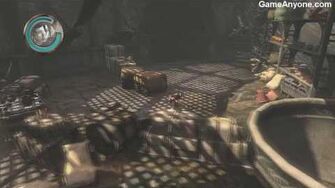 Ad blocker interference detected!
Wikia is a free-to-use site that makes money from advertising. We have a modified experience for viewers using ad blockers

Wikia is not accessible if you've made further modifications. Remove the custom ad blocker rule(s) and the page will load as expected.