Prison Approach is the fifth checkpoint featured in Chapter Two of Heavenly Sword.
Prison Approach

Nariko headed for the Prison after her fight with Flying Fox.

Game

Chapter

Checkpoint

5

Previous Checkpoint

Next Checkpoint
Background
Edit
Nariko continues her quest to find her father after battling with Flying Fox.
Walkthrough
Edit
This checkpoint is mainly comprised of a path laden with Bohan's soldiers. The soldiers will throw things at Nariko while she climbs up a hill on the path, including barrells and the corpses of her clansmen. Once she climbs the hill, Nariko must now defeat one wave of enemies before continuing. After doing so, there are two gates, which are activated by using the turnstiles next to them. Cross the bridge and ascend the corresponding stairs to the Prison and the checkpoint will be complete.
Checkpoints
Edit
Previous Checkpoint: Beware the Fox
Next Checkpoint: The Prison
Video Walkthrough
Edit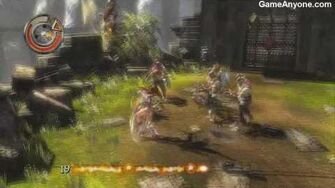 Ad blocker interference detected!
Wikia is a free-to-use site that makes money from advertising. We have a modified experience for viewers using ad blockers

Wikia is not accessible if you've made further modifications. Remove the custom ad blocker rule(s) and the page will load as expected.